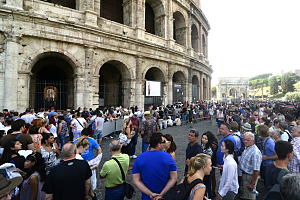 With the online ticket you can choose the type of visit that you prefer – accompanied, guided, in various languages– avoiding long queues at the ticket desk. You just have to print the voucher obtained through the booking on this website and show it at the "booked" desk (Arch of Titus, Salaria Vecchia) where you will collect the entrance ticket.
Thanks to the online purchase of the ticket you can schedule the tour well in advance and visit the monument and the surrounding areas with all calm.
The entrance, if booked, is valid for 2 days and allow to visit nearby historical sites of Palatine and Roman Forum. Those that you will see are eternal beauties, monuments that testify the magnificence of the ancient Rome, a city that, step by step, wall after wall, will embrace you in a fascinating backward path.