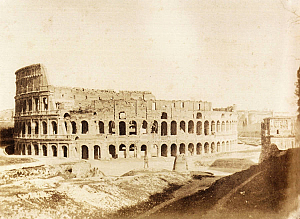 The monument, symbol of the city, was built in just eight years under the Vespasian's Empire starting from 72 AD where there was a lake.
The huge amphitheater, which takes its name from to the nearby bronze statue of Nero (Colossum), had four levels of arches that, except for those at ground level which were used as entrance, could have hosted statues, completely disappeared today.
Inside the Colosseum, designed to entertain people with games, fights and hunting scenes, could sit about 60 thousand people, a sort of forerunner stadium that also included many internal fountains for the audience's refreshment. The choice of location was very strategic, considered the proximity to the Forum, which was the center of the city, and the considerable width of the area on which to drain the huge influx of spectators incoming and outgoing. Inaugurated with 100 days of celebrations by the emperor Titus in 80 AD and later known as Flavian Amphitheatre, the Colosseum had at its center an arena made by a wood floor covered with sand on which were staged various performances.