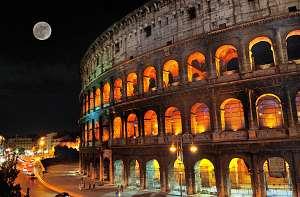 A charming lighting for a special evening visit to Colosseum dungeons, tunnels and internal arches.
Thus a magical atmosphere spreads over the entire auditorium of the amphitheater.

The visit starts from the arena floor, the heart of the monument, from where you can see the depth of the underground, the hollows of the galleries and the sequence of internal arches inside the monument, made particularly attractive by the evening lighting. Here we talk about the gladiator games, munera et venationes, who made up the audience who attended it, the history and the architecture of the extraordinary monument that still fascinates the whole world.